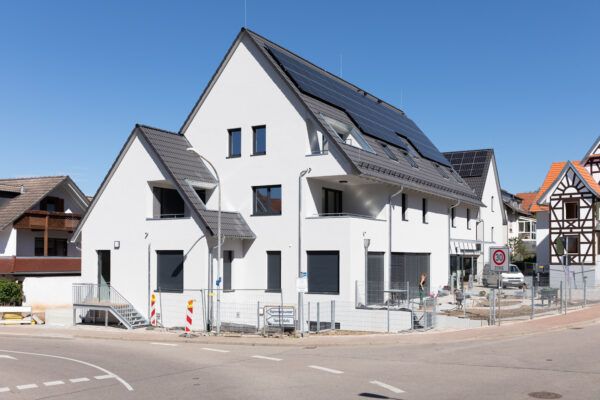 A gem for Zell-Weierbach – apartments for assisted living and day care
Trium Novem GmbH, as general contractor, built "a real gem", as Trium Novem managing director Thomas Dieterle puts it, for the Paul-Gerhard-Werk's offer. By this he means, on the one hand, the listed former inn, whose half-timbered structure is now even better accentuated after conversion and refurbishment. The three extension buildings with 17 barrier-free apartments on 1290 square meters also fit harmoniously into the 330 square meters of living space. And with a view to the future: The new buildings not only meet the latest energy standards, but the photovoltaic systems on the roofs also ensure lower emissions.
Christoph Gutenkunst and Raoul Schwarze, who took over the project management for Trium Novem, agree that architecturally and structurally the project was "both a demanding and an attractive task. But despite the pandemic and the Ukraine crisis, as well as some of the delivery problems associated with them, they are pleased to report that the schedule was met. The smooth process was primarily due to the good cooperation with the client, planners and the commissioned craft businesses from the region, "in partnership and on an equal footing," as Christoph Gutenkunst notes.
We would like to thank all the craftsman's establishments involved that have made the creation of this living space possible in the first place. Here's to a good and trusting cooperation on an equal footing.
September, 2023